Student Services Team Members are here to help during this strange and challenging time. Visit the school district website for answers to FAQ's or assistance on food or technology needs.
Importantly, Gov. Evers has announced the COVID-19 Resilient Wisconsin Initiative, which brings together the latest data, coping with toxic stress resources, evidence-based tools, and trauma-informed practices for Wisconsinites.
If this is a medical or mental health emergency, please dial 911 for emergency assistance. Additionally, here are some mental health toll-free numbers:
Hotlines and Crisis Lines
Local Resources:
For those Struggling with Substances: Local recovery groups (Alcoholics Anonymous, Narcotics Anonymous, Smart Recovery) are also working to create virtual meetings to support people's recovery. Visit:
COVID-19 Economic Relief Fund United Way: Can assist with bills, rent, and food. Call 1-866-211-9966 to get linked with resources in your zip code
Financial Resources to Help Get Through COVID-19: https://fyi.extension.wisc.edu/toughtimes/covid-19-financial-resources/
I will be reaching out via email to the students I meet with regularly, but if you or your family needs assistance with social/emotional support, food, housing, academic support, technology support, please contact us. We are here to help! You can reach me directly at: jhorner@wisheights.k12.wi.us
Remain Vanguard Strong! Mrs. H
Learning At Home Resources:
Disclaimer: These resources are not a replacement for specialized designed instruction; teacher instruction; evidenced-based practices, curricula, or interventions or professional therapies. They are not endorsed or recommended by WHSD. Please use these resources as you would like during our school closure. You are highly encouraged to keep communication with your child's teacher, special education teacher, and related service providers (PT, OT, Speech, Counselor, Psychologist, Social Worker, Nurse) for specific resources. Any learning is better than no learning. We want our students to continue to move forward in their learning and skill development.
A PSA... Take Care of Mental Health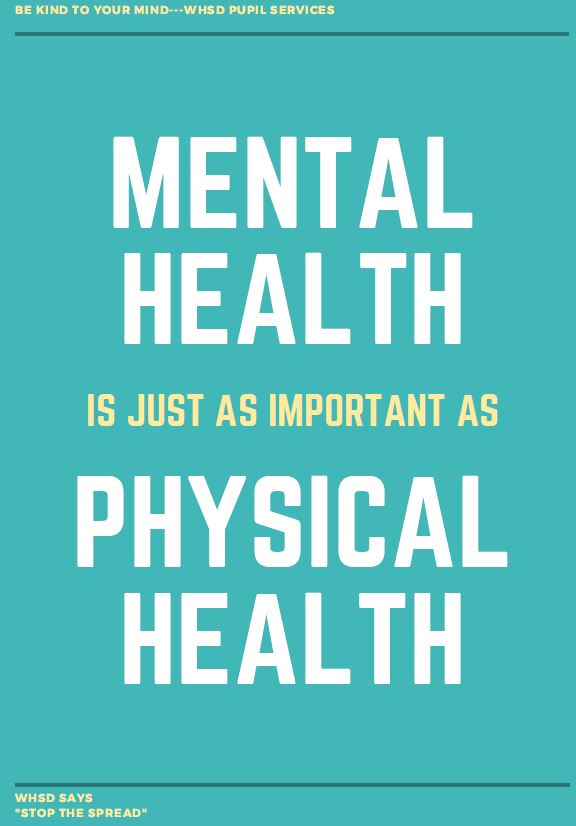 Remember to...